Houston Radio Commercials and Podcasts Production Company
Radio Advertising Houston, a radio commercials and podcasts production company in Houston, is all about keeping up with the times and following the latest technology trends to ensure the best possible advertising experience. Radio has continually been a tried-and-true method of relaying advertisements to potential customers, and podcasts, a form of audio broadcasting, has recently exploded onto the scene.
Benefits of Radio Commercials and Podcasts
The advertisements you hear on the radio continue to act as an effective medium for reaching out to potential customers, especially when targeting a local audience. Houston Radio Advertising has many connections with many local stations in the Houston area to ensure your radio commercials are heard by a multitude of potential, local customers.
Of course radio commercials are not just for radio stations anymore. Podcasts have soared in popularity during the past year, evolving from a niche medium created in 2003 into a platform that now reaches millions of listeners in 2016. Since many podcasts are genre specific, you can reach a narrower target audience, and Radio Advertising Houston can help you find that target audience through market and audience research.
Our Production Process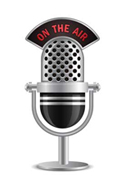 Furthermore, when you hire Houston Radio Advertising to produce your advertisement, you're gaining access to state-of-the-art recording and editing facilities. With our advanced capabilities, we can produce your radio commercials and podcasts in-house from start to finish. Our knowledgeable staff will write the the script, hire the right narrator from a wide range of available talent, record your ad, and edit until we produce a final product you're enthusiastic about.
Of course that's not the only perk of working with Houston Radio Advertising to produce your business advertisements. When you take your ads straight to a radio station, only that specific station can air the ad, essentially limiting your business' exposure. However when you work with us, you have the option to air your ad on multiple stations, granting you access to a wider audience and more potential customers.
Take Action Now
Your local Houston professional radio commercials and podcasts production company, Houston Radio Advertising can help you explore all of the options available where your radio advertisement can be heard. For a FREE consultation and a radio advertising planner, call us at 713-269-3094 today!